Exploring the Area
The reserve Ak-Bulung is located in the village of Kara-Talaa, Ton district. Its total area is 380 hectares, of which 150 hectares are occupied by the peninsula. It is here that birds fly during the winter. In winter, up to 80 thousand birds visit the peninsula, among them there are winged birds from the Red Book.
In the Soviet years, the territory was a nature reserve, but after the collapse of the USSR, it lost this status and turned into a paradise for poachers.
Now the appropriate infrastructure is being created on the territory of the reserve: they are installing fences, a parking area, a recreation area for tourists, a food point, a house for guards, and more. Hunting, fishing, boat trips are prohibited in the reserve. Tourists are allowed to take photos, walk, and feed birds. It is planned to create a picnic area century.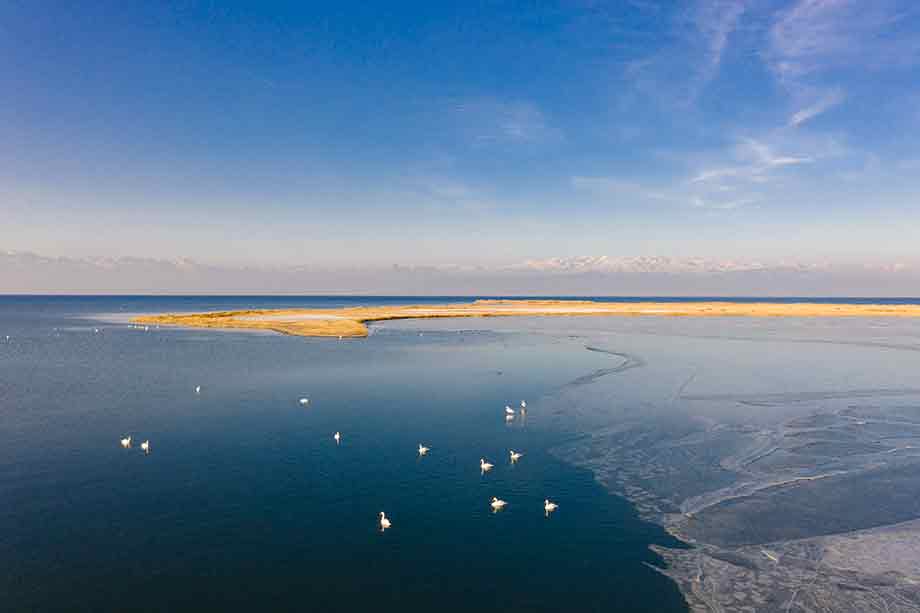 Where to Stay
The yurt camp and some homestay is planning to organize very soon. For the moment no relevant accommodation available around the area. But possible to set up the tents nearby on the nature reserve by agreed in advance with the local ranger.
The closest guesthouses and home-stays are located in Bokonbaevo village can be found by famous booking platforms. These are popular and main accommodation sites. As usual, the type of stay is Bed and Breakfast. The price range of 350-1500 soms per person per night. Some hostels just opened. Yurt stays available in nearest mountain slopes, at the lakeshores and gardens of the guesthouses. Yurt staying is one of the main highlights of traveling in Kyrgyzstan.  If you have your tent and want to settle up your tent that is also welcomed by the notifying of the hosts.
Eating and Drinking
There is an opportunity to negotiate with local residents from the nearest village of Kara-Talaa to organize lunch or dinner in the family home. The people are very welcoming. Or you can shop at the rural grocery store and cook for yourself outdoors.
What to See and Do
The area is interesting for bird lovers. Many bird species can be found here: Gaviiformes, Podicipediformes, Pelecaniformes, Ciconiiformes, Phoenicopteriformes, Anseriformes, Falconiformes, Galliformes, Tetraonidae, Phasianidae, Gruiformes …
Birdwatching: The best season for bird watching is from late September to December and spring from March to the end of May.
How to Get Around
The nature reserve Ak-Bulung can be reached from the Western bus station from Bishkek for 5-6 hours and 270 km.  Marshrutka or mini-bus is the most popular public transportation in Kyrgyzstan. One seat costs 250 soms.  Shared taxi will charge 350-400 soms per person per seat. Private taxi for 4 sits gets about 4000 soms.
Also, you can take a transport going to Karakol or Bokonbaevo by the southern side and ask for a drop at Kara-Talaa village.