Kyrgyzstan is the perfect destination for winter enthusiasts. The country has a number of ski resorts that are open all year round, and it is also home to some of the most beautiful backcountry skiing destinations in Central Asia.
The country's capital, Bishkek, is a great place to start your winter adventure. You can find everything you need here: hotels, restaurants, and shops where you can buy equipment or rent a car or bike. One of the best things about Kyrgyzstan is that it offers plenty of opportunities for outdoor activities all year long.
—
Backcountry skiing in Kyrgyzstan is a memorable experience for those who are looking for winter adventure. The country has a nomadic culture, which means that you can explore the mountains and freeride in the most authentic way possible.
The resort offers backcountry tours with experienced guides, who will take you to the best spots. You can also go on a tour with your friends or family members and explore the mountains together.
—
Kyrgyzstan is a country with a lot of mountains and snow. It is perfect for backcountry skiing, which is not very common in the rest of the world.
The nomad culture of Kyrgyzstan has always been very welcoming to strangers and visitors. They are known for their hospitality, kindness, and tolerance.
The people there are also very open to new things and experiences, which means that they are willing to try out new sports such as backcountry skiing or freeride skiing.
—
So, Kyrgyzstan is a perfect destination for backcountry skiing. The country has some of the best ski resorts in the world and offers many opportunities for winter adventure.
Backcountry skiing in Kyrgyzstan is not only about freeride and extreme sports, but also about nomadic culture, mountain landscapes, and traditional Kyrgyz hospitality.
In this section, we will talk about the best places to go backcountry skiing in Kyrgyzstan.
Jyrgalan valley
Jyrgalan is a perfect place for backcountry skiing. It has a lot of slops for freeride, great powder skiing, and winter yurt camps.
This is the place where you can go to experience the beauty of nature in all its glory. You can go skiing in the deep snow, have a relaxing time in a winter yurt camp, or just enjoy the peace and quiet of untouched land.
—
Jyrgalan is a place that offers backcountry skiing in the winter. It is located in Kyrgyzstan and has a lot of slops for freeride, as well as powder skiing.
The ski tour takes you through the valley of Jyrgalan and you will be able to experience the beauty of this region. The tour starts at around 11,000ft, so it is not recommended for beginners.
—
The Jyrgalan valley is one of the most popular winter destinations in Kyrgyzstan. The valley is a paradise for backcountry skiing and it offers a lot of opportunities for freeriding. The landscape is very diverse and there are many options to choose from – slops, powder skiing, off-piste skiing, or even ski touring.
This place is also perfect for winter yurt camps. There are many great places to stay like Jyrgalan winter yurt camping, Tuip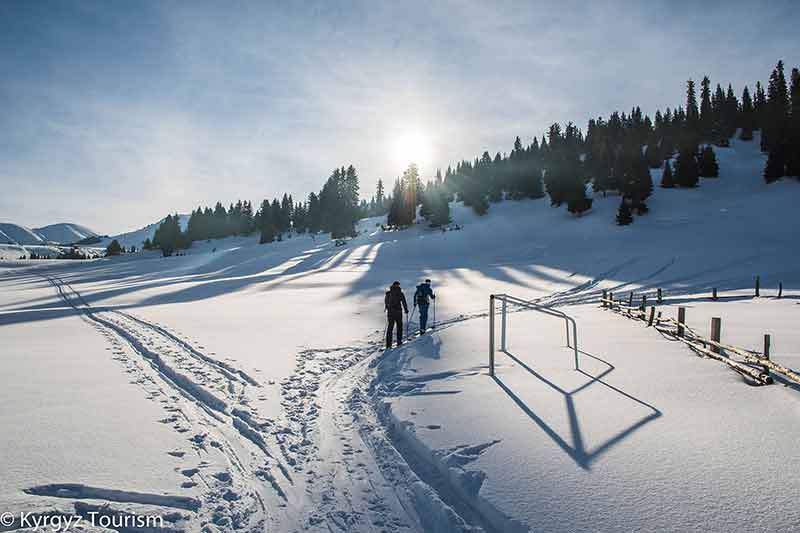 Karakol
The Karakol region is one of the most popular destinations for winter tourism in Kyrgyzstan. It is known as the best ski base in the country. The region has a variety of ski tours, including cross-country skiing, alpine skiing and snowboarding. It also offers access to beautiful mountains and hot springs.
Karakol is a region in the northeast of Kyrgyzstan. It is known for its winter tourism, the best ski base, ski tours, celestial mountains, hot springs, and culture.
The Karakol region has been developing its tourism since the 1990s. There are many reasons why this region is so popular among visitors. For example, it has a lot of resorts that offer skiing and snowboarding facilities as well as other winter activities such as dog sledding and snowmobile rides. The Karakol region also offers some of the most beautiful landscapes in Kyrgyzstan with steep mountain slopes covered by snow all year round. This place also provides an opportunity to explore a rich cultural heritage with ancient traditions and multi-nationality communities.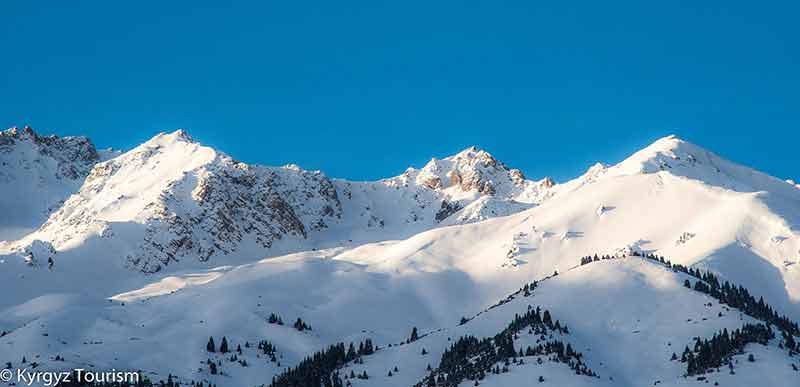 Suusamyr
Suusamyr is the highest mountain valley in Kyrgyzstan and it is located in the southwest of the country. It is a place that offers six months of winter with extreme adventures and backcountry skiing.
The Suusamyr Valley is one of the most remote, high-altitude valleys in Kyrgyzstan. The valley was once a popular tourist destination for hikers in the summertime but has been attracting more freerides for winter since 2014. Today the valley gives the best opportunity to feel the real backcountry ski touring seasons from November until April time.
Suusamyr Valley is one of the most beautiful places on earth with dramatic landscapes, snow-capped peaks, wild animals, and an abundance of natural resources.